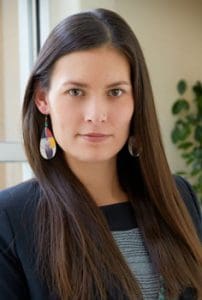 Posted by Tierra Marks.
We want to give a shout out to Josett Monette, who recently became the Managing Attorney of the Native American Program at New Mexico Legal Aid ("NMLA").  Although we are sad to have Josett leave the firm, we are excited for her and for her future clients!
NMLA provides legal services and representation to low-income Native Americans and New Mexicans across the State of New Mexico.  The Native American Program provides services concerning federal Indian law and tribal law matters, practicing in tribal, state, and federal courts, and primarily in the Pueblo courts.  For more information on NMLA, click here.  Also, NMLA's partner, DNA-Legal Services, provides legal services in several Indian nations and New Mexico and was the old stomping grounds of two of the firm's founders, Karl E. Johnson and Dolph H. Barnhouse early in their legal careers. 
Josett is a member of the Turtle Mountain Band of Chippewa Indians in North Dakota and grew up around Belcourt, North Dakota.  After receiving a B.A. in Indian Studies, a B.S.Ed. in Secondary Education-Social Studies, a Graduate Certificate in English Language Learning, and a M.Ed. in Educational Leadership, she finally decided to attend law school at the University of New Mexico School of Law.  During law school, Josett served as a member of the Native American Law Student Association and as the New Mexico State Bar's Indian Law Section Student Liaison. 
Although Josett's time with us was short, we quickly noticed her determination, ability to lead, and passion for serving individuals in Indian Country.  Josett has fought against, and will continue to fight against, injustices suffered by Indian people and Native nations and does so in state courts advocating for sovereign immunity or the application of the Indian Child Welfare Act on behalf of respondent parents, and in all types of public spaces, including in the classroom when Josett was a first-year law student.  See Margaret E. Montoya, Mascaras y Trenzas: Reflexiones. Un Proyecto de Identidad y Analysis a Traves de Veinte Anos (Masks and Braids: Reflections, A Project on Identify and Analysis Over Twenty Years), 36 Harv. J. of L. and Gender, 469, 475, n. 20 (2014).  
This transition will bring Josett full circle, as her first job as an attorney was as a staff attorney at NMLA.  Now, five years later, she is back as Managing Attorney, where she will oversee other attorneys, manage funding, and supervise the Native American Program.  When asked, Josett said some of her current goals as Managing Attorney were to improve Indian Child Welfare Act services and to expand the program to all tribal courts across the State of New Mexico.  She also said, "It is just good work to help people that deserve good help."  We couldn't agree more. 
While we will miss Josett, we support her in her new journey and have every ounce of confidence that Josett will do amazing things at NMLA.