Posted by Veronique Richardson.
On October 7, 2022, the Pueblo of Santa Ana publicly announced its partnership with Tesla, Inc. to open a 35,000 sf sales, service and delivery facility including charging stations on the Pueblo of Santa Ana. The Santa Ana Pueblo Tesla facility is slated to open to the public in May 2023. This is Tesla's second location in the State of New Mexico and first facility of this size on Indian lands. The Project is the culmination of the Pueblo's efforts to create groundbreaking business development opportunities motivated and informed by their history and cultural values.
The EV seed was first planted for the Pueblo in April 2021 when Tamaya Ventures Inc., a section 17 corporation wholly owned by the Pueblo of Santa Ana, leased warehouse space to Tesla on Pueblo of Santa Ana lands. Rooting one portion of its operations on Santa Ana Pueblo lands offered the Pueblo the opportunity to cultivate a long-term relationship with Tesla, and by June 2021, Tamaya Ventures' and Tesla's partnership blossomed into the future 35,000 sf facility.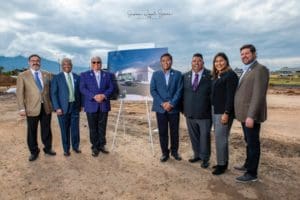 The Tamayame, the Santa Ana people, are governed by a traditional form of government, appointing Governors and traditional leadership annually. Santa Ana Pueblo traditions and customs are still practiced today and while discussions related to history, culture and tradition are not always integral to closing business transactions, it was important for the Pueblo to demonstrate that this "deal" was more than a short-term business transaction – it was important for the future of Tamayame.  Not only does the Pueblo of Santa Ana-Tesla partnership diversify the Pueblo's economic development portfolio, but the Partnership is creating education opportunities through Tesla's START training program.  The education and workforce development opportunities the Tesla START program provides for career development, not just jobs for tribal members.  In addition, the career opportunities that are being created allow Santa Ana tribal members to have a career-work-life balance that allows them to remain in their home community.
Vital to the success of the Project was the Pueblo of Santa Ana's efforts to secure a change in New Mexico's tax laws during the 2022 30-day legislative session to recognize state tax credits for vehicles purchased on tribal lands. This legislative change not only allows the Pueblo to create a new revenue stream by establishing its own excise tax but opens the door for all Pueblos and Tribes in New Mexico to pursue similar economic development opportunities.
Barnhouse Keegan Solimon & West was honored and privileged to represent Tamaya Ventures Inc. in negotiations with Tesla. It is clients like Tamaya Ventures, Inc. whose outside-the-box thinking and commitment to economic development that is tied to the values of the Pueblo who make our work fulfilling.